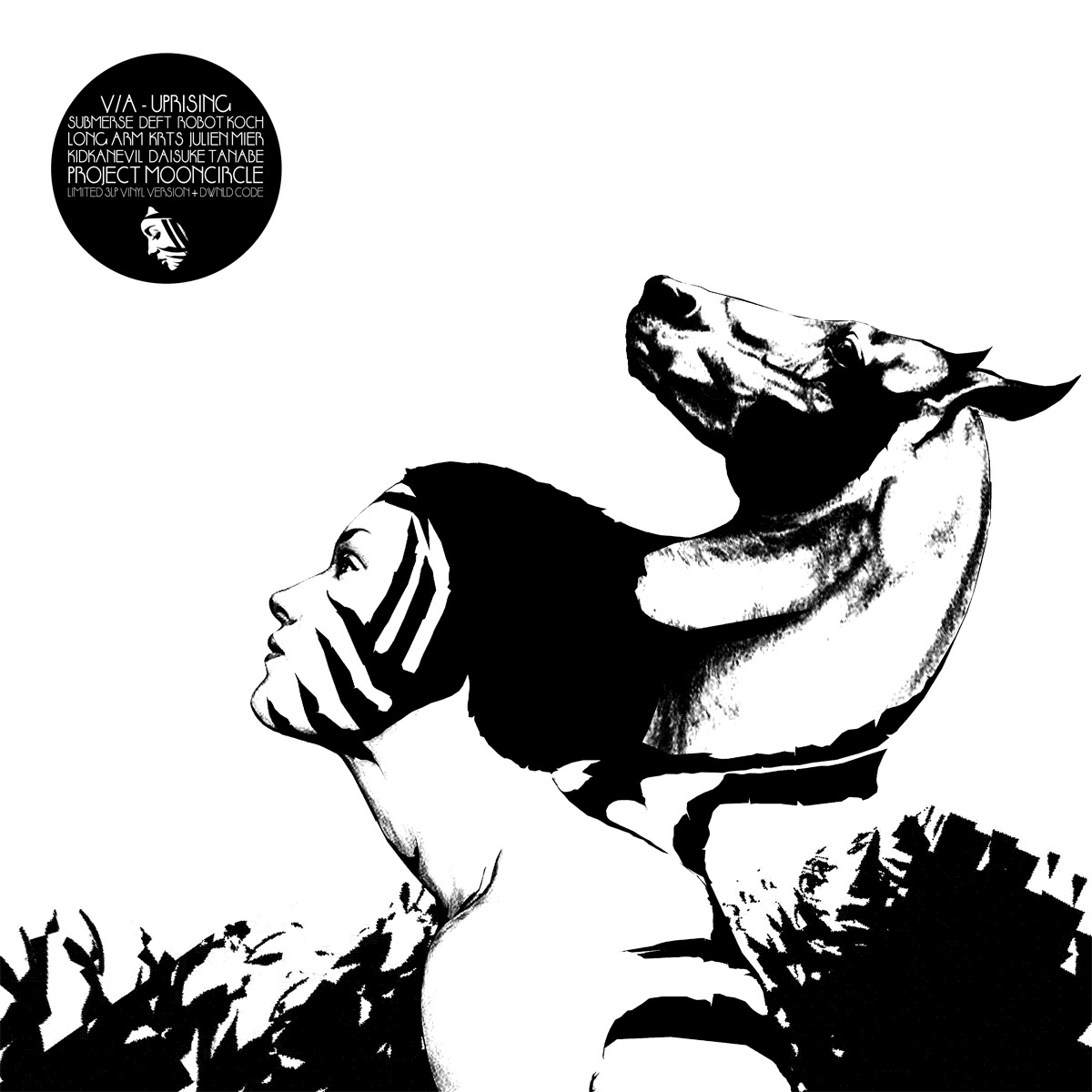 Release.

V/A – Uprising



Date

01.11.2013




Catalog

PMC121




Genres




Artists



Description.
This year's label-compilation thematically revolves all about the rise up from the generic. It is about young talented artists who are still struggling on their way up and are out there to make a name for themselves.
A wild stallion fights it's way up from the dirt and tries to receive recognition by separating itself from the herd. Breaking through the anonymity of the group to the freedom of running through endless land- and soundscapes into horizons of new sonic worlds.
The compilation includes IIIII (Five Eyes), KRTS, Sieren, my.head, FiJi, Long Arm, Kidkanevil, Daisuke Tanabe, Hanami, Julien Mier, Deft, submerse, opti, Den5hion, Tom Day, Monsoonsiren, Tendts, Thriftworks, DH the Mythicalifornian, PYUR, Rain Dog, Daixie, FauDeam, Jean du Voyage, Djéla, Pierre Harmegnies, Robot Koch, Robert Valsinger, Blossom, Neema, Tomika, How Green, Drogtech, Bruises, Night Logic, Deep Shoq, Stèv, Cass., Anna Marjamäki, Vitrion, and MockSun.
Mastering by Sven Friederichs. A&R – Malte Tarnow & Gordon Gieseking. Design by Aline Donckier de Donceel. Original painting by Gordon Gieseking. Handmade silk-screen print artwork.
Tracklist.
01

Humdrum

IIIII (Five Eyes)

02

Bonehead

KRTS

03

Escape

Sieren

04

Counting

my.head

05

Reunion

FiJi & Long Arm

06

Wanju

kidkanevil & Daisuke Tanabe

07

Ribbons

Hanami

08

Everything Is Illuminated

Julien Mier

09

Maybes

Deft

10

Glazed

submerse

11

Springs

opti

12

Piel de Leopardo

Den5hion

13

Elegiac

Tom Day & Monsoonsiren

14

After The Bliss

Tendts

15

Die Gracefully ft. DH the Mythicalifornian

Thriftworks

16

Walk Away

PYUR x Rain Dog

17

Huxley

Daixie

18

Franz Deam Re-edit

Fau&Deam

19

Rise & Appears ft. Djéla & Pierre Harmegnies

Jean du Voyage

20

Heads Up

Robot Koch

21

Pip Till

Robert Valsinger

22

The Longest Journey

Blossom

23

Goodbye

Neema

24

Fall in Springtime

Tomika

25

Flat Faced

How Green

26

Around the Corner

Drogtech

27

Charcoal

Bruises

28

Unkleness

Night Logic

29

Lights Down

Deep Shoq

30

Paint Me Like The Sky

Stèv

31

Jet Stream ft. Anna Marjamäki

Cass,

32

Elevators

Vitrion

33

In Visions

MockSun
Quotes.
One of our favorite labels!
Robot Kotch is great and Drogtech is good!
Too many interesting artists and good tunes in one place!! Look forward to sinking into it later.
Great selection of producer sonics.
Love it when PMC puts together a compilation like this, it's not that often but it doesn't need to be either. Plenty of great work on this one, hard to choose a favorite among all the great efforts. Going into rotation right away on my program.
What a fine fine fine compilation.
I'm starting to think that Project Mooncircle has picked up where Mille Plateaux left off. I get that same feeling from this label and I'm always excited when something new drops from this imprint. The world of electronic music has nothing to fear: it's in very good hands with this crop of young producers. Whether established or on the come up, they're continually pushing the envelope. Fabulous material on this compilation.
Today got to the end of this massive comp and what an excellent selection of tunes – proves how good PMC is!