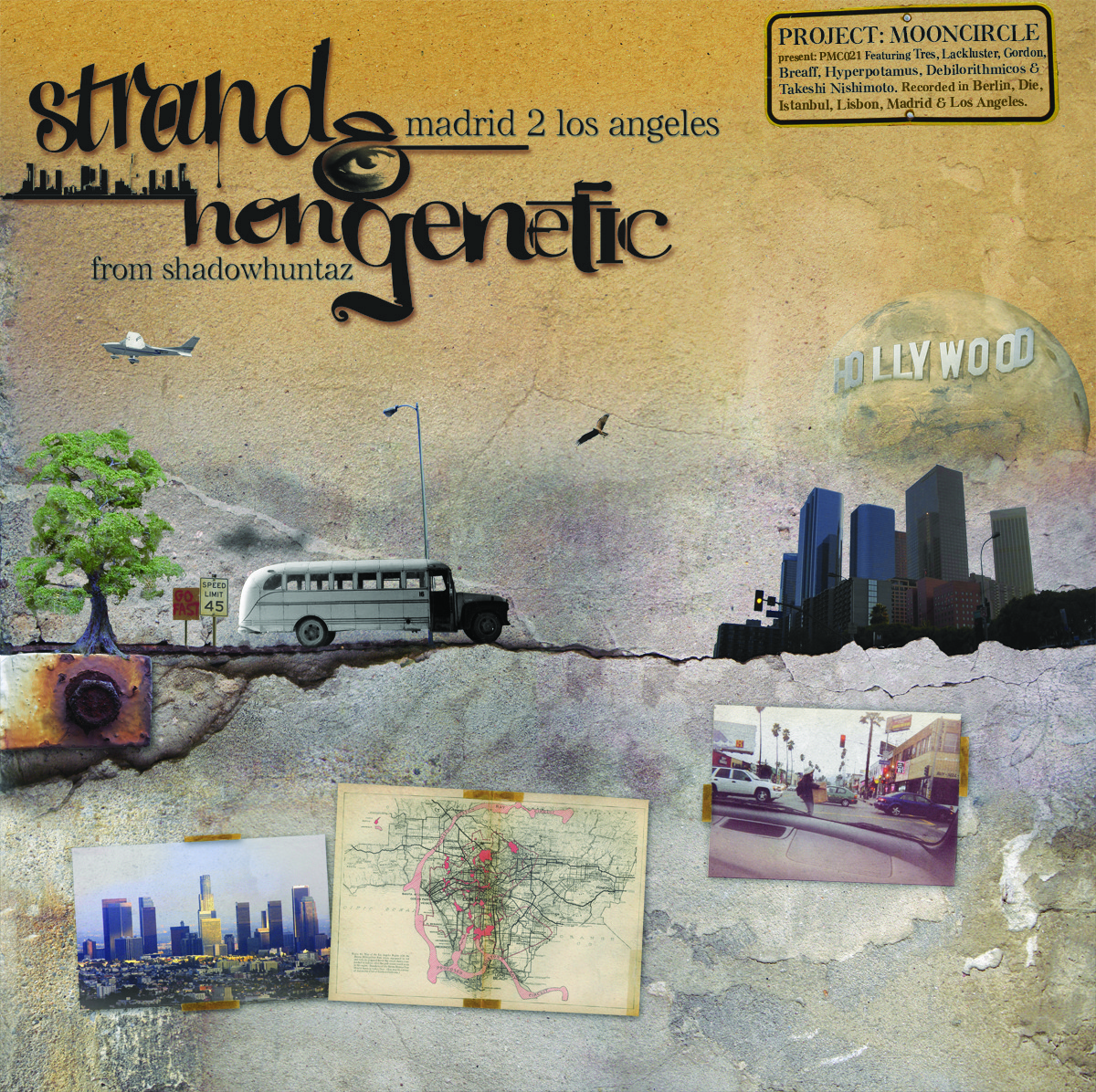 Release.
Strand & Non Genetic – Madrid 2 Los Angeles
Date

14.03.2008

Catalog

PMC021/022

Genres

Artists
Where to buy ?
Digital download at Itunes
Description.
Nongenetic, a member of Shadow Huntaz and Strand (aka Miguel Gil Tertre) have teamed up for making a new breed of hiphop, pure emotional but with microscopical-scientific beats, electronic yet organic. They have met only once (November 2006 in LA) but the ideas, the beats and the flow were immediate. Back to Madrid, Strand played, recorded and processed in the computer a lot of music (guitars, drums, pianos). Non chose the best and rap over it with lyrics talking about life and the city of Los Angeles. Now you have with you something different: rap as a song, electronic experimentation as a beat…
From the computer generated sound of "The Chase" to the piano driven sound of "We Walk".
Project Mooncircle gives you this record with instrumentals and remixes by Lackluster, Impulze and Hudson Mohawke (only Japanese version). Collaborators include Takeshi Nishimote, Tres, Hyperpotamus, Breaff and Debilorithmicos.
Artwork By Gordon from Beta Bodega Coalition.
Tracklist.
01

Madrid (Intro)

02

The Chase – Lisbon feat. Tres (Bass)

03

We Walk – Los Angeles

04

The Words – Istambul (and contains a sample from Debilorithmicos)    feat. Hyperpotamus (Vocals)

05

Your Ghost – Singapur feat. Breaff (Lyrics)

06

Spoken – Die

07

Mi-people – Madrid

08

Los Angeles – Berlin (also produced By Takeshi Nishimoto)

09

We walk (Lackluster Remix by Lackluster)

10

We walk (Impulze Remix by Gordon Gieseking)

11

Gijón (Japan Only)

12

The Chase (HudMo Rmx by Hudson Mohawke)

13

Los Angeles (HudMo Rmx by Hudson Mohawke)