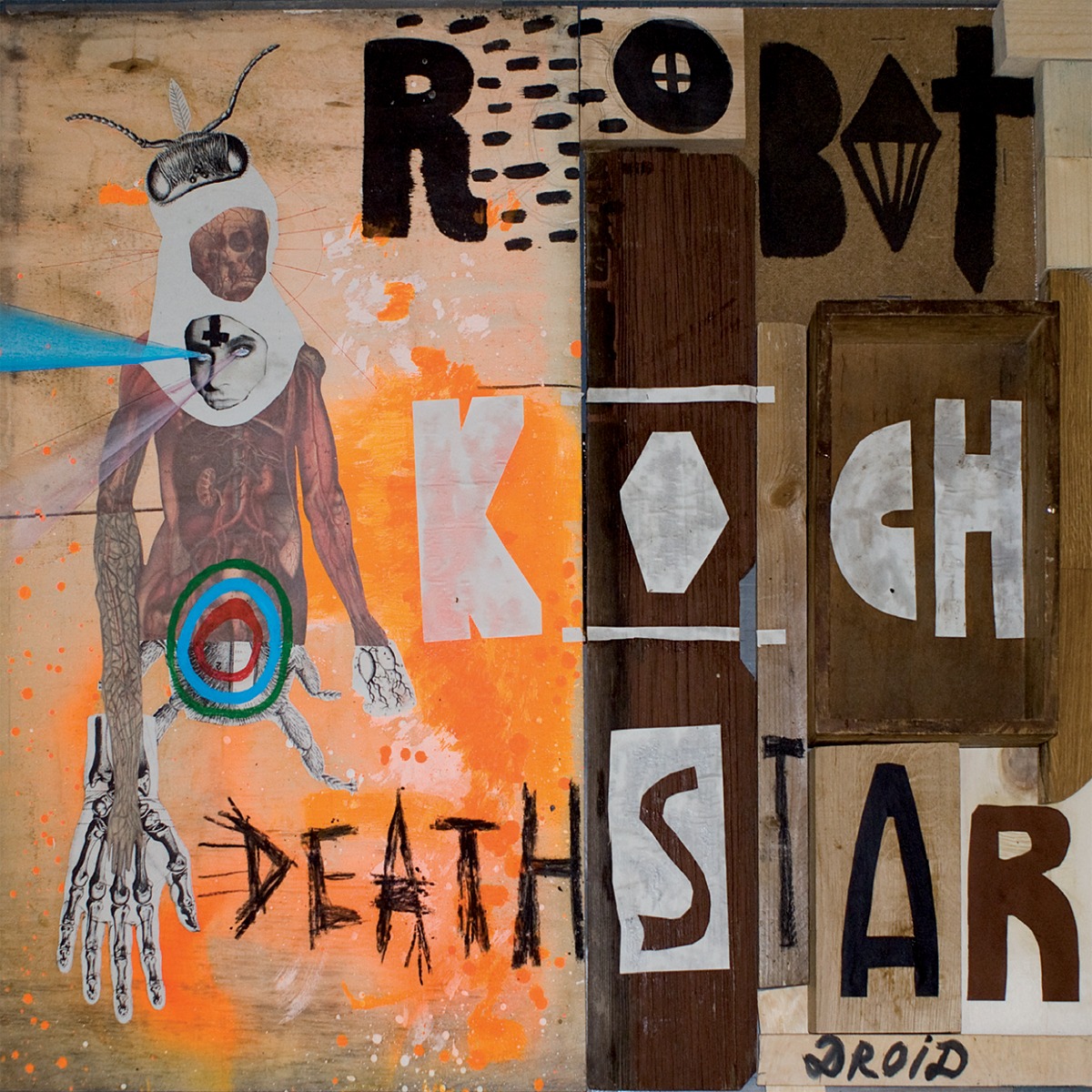 Release.
Robot Koch – Death Star Droid
Date

13.11.2009

Catalog

PMC048/049

Genres

Artists

Featuring
Description.
After the successful "Aftershocks EP" on his own Robots Don't Sleep label, Robot Koch returns with this long anticipated full length heavyweighter. Death Star Droid is technically Robot Koch's debut LP, but all that this means is that the record drops with his name on it alone – the man is no rookie! 
Having released numerous records with his projects JAHCOOZI and THE TAPE VS RQM, as well as having made beats and remixes for for many artists internationally, Robot established himself as a household name in the world of Bass, Glitch and Lazerbeams. Lately his tunes became staple drops in the playlists of Bass Luminaries such as Starkey, Gas Lamp Killer, Hudson Mohawke, Mary Anne Hobbs and Rustie.
On death star droid Robot connects the dots between his more bass heavy and clubby project JAHCOOZI and his Post Rock outfit THE TAPE.
Death Star Droid is a Dubstep and Wonky Hip Hop infused affair, but the introduction of live acoustic instruments and heartfelt melodies is what sets it apart from the rest in the loosely defined genre. The grizzly synthies and bass lines on the song WHILE are supported by a drifting piano. On hard to find Robot introduces strings and flutes. The wobbling signature use of the Moog and Korg is present through out.
Robot has always drawn inspirations from all ends of the musical spectrum.
Having started out as a drummer in a Punk and Hardcore band, he found his way into Electronic music via Hip Hop, Jazz and DJing.
His favourite albums include Slayer (reign in blood), John Coltrane (a love supreme) and 36 chambers by the Wu Tang Clan.
Robot's mixtapes have what could be easily called a cult following on the net. the blogosphere is jam packed with these gems. And what always set these mixes apart from the next man's is the liberty that they exhibited in defying genre based music by combining and clashing a broad spectrum of sound.
Flying Lotus recently asked him to contribute a mixtape for the brainfeeder podcast. The mix featured West African Folk and rare Jazz oddities. Fly Lo had told Robot: "We gotta feed the kids more than just beats." It's clear that the man listened.
Death Star Droid is far more than just a beatmaker/producer album with a selection of up to date beats. It's a sincere musical statement made in the tradition of his mixtapes. Expect to be surprised – this is music made for true music lovers.
Display in Japanese
PMC の最新リリース Death Star Droid は、 JAHCOOZI、 THE TAPE VS RQM のメンバーとして多くの作品を発表、また多くのアーティストにリミックスを提供している Robot Koch の初ソロリリース作です。
Robot は昨今のグリッチ、ベースミュージックの主要人物としてその地位を築き、彼の楽曲は Starkey、 Gas Lamp Killer、 Hudson Mohawke、 Mary Anne Hobbs、Rustie 等のミュージシャン、ダブステップ DJ 達にも注目、プレイされています。 Death Star Droid はダブステップとヒップホップのハイブリッドですが、生楽器と温かみのあるメロディーを加える事でひとつのジャンルとしては特定できない独特なサウンドに 仕上がっています。本作はミックステープの手法を用いた作品で、多くの音楽愛好家のために作成された作品でもあります。
Release date: 13th of November.
Artwork by 44 Flavours
Tracklist.
01

Death Star Droid

02

Away From

03

Hard To Find

04

Love And The Machine

05

People Are Strange Feat. Grace

06

While Feat. Manya

07

Heaven Is My Real Estate

08

Memories

09

Gorom Sen

10

A Song Formerly Known As Tooth
Quotes.
Wonderful and strange — pop music from the future
The album 'death star droid' by Robot Koch is the sound of artifical intelligence discovering Religion – essential listening…
A gothic galactic aesthetic of ten ton beats and space age melodies.
"Death Star Droid" is definitely one of the standout instrumental albums of the year.
If, in some distant future, robots will make folk music, this is what it would sound like.
"Death Star Droid" by Robot Koch is dopeeeeeeee! Berlin power!
Like mum and ratatat covering a dubstep tune.