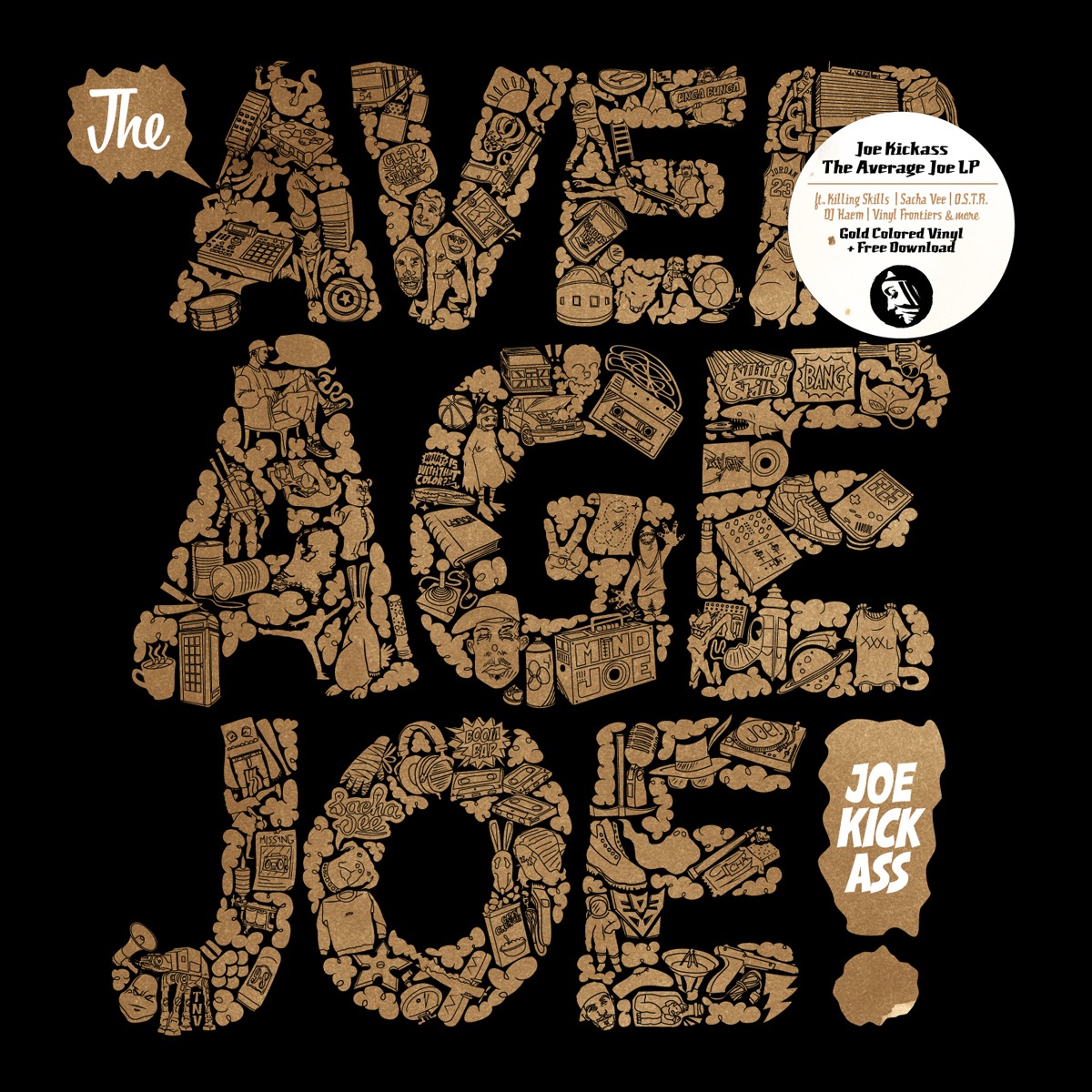 Release.

Joe Kickass – The Average Joe
Date

07.03.2014

Catalog

PMC128

Genres

Artists
Description.
After the success of his previous releases, Amsterdam based Joe Kickass sets out to create a worthy follow-up to his 'Mind Joe' legacy. It's been a long time coming but now his second full length album, 'The Average Joe' is finally here. Named in celebration of the millions of unique stories that make every individual the person they are, this record gives a little more insight into the man behind the mic. The past years leading up to this release have been somewhat of a rollercoaster ride, with a lot of things happening in Joe's personal as well as artistic life. All of the different resulting emotions and contemplations are reflected in the diversity and maturity of his sophomore LP.
Besides crafting his own beats, Joe enlisted a small army of talented musicians to contribute to this album. From the nu-soul sounds and vocals of Sacha Vee, via the dusty warmth of Vinyl Frontiers to the boombap vibes of Polish veterans O.S.T.R. and DJ Haem, just to name a few of the influences and collaborators on 'The Average Joe'. In addition, with trustworthy partners in crime Killing Skills as the executives, every track is produced into perfection. With this second LP, released on gold colored vinyl, Joe is taking Project: Mooncircle back to it's legendary hip hop roots. The Average Joe kicks ass, indeed.
Mastered by Sven Friederichs. Artwork by Joe Kickass & Erjee. A&R: Gordon Gieseking & Aine Devaney.
Tracklist.
01

Reach The Top – Produced by Loscobeat

02

Switch – Produced by Vinyl Frontiers

03

Make A Move – Produced by Joe Grimey

04

Superhero Stuff – Produced by Chef Red

05

Crossfader Ft. Sacha Vee – Produced by Joe Kickass

06

Feel Alright – Produced by Killing Skills

07

Just So You Know – Produced by Chef Red

08

The Right Melody – Produced by Killing Skills, Erjee & Sacha Vee

09

Gardener – Produced by Bathtub Piracy

10

Splowg – Produced by Joe Kickass

11

Shadow Knows Ft. Sacha Vee – Produced by Killing Skills, Joe Kickass & Erjee

12

The Big Bang – Produced by Chef Red

13

Hey Joe Ft. DJ Haem – Produced by O.S.T.R.

14

Holding On Ft. Sacha Vee – Produced by Vinyl Frontiers

15

The Average Joe – Produced by Moods